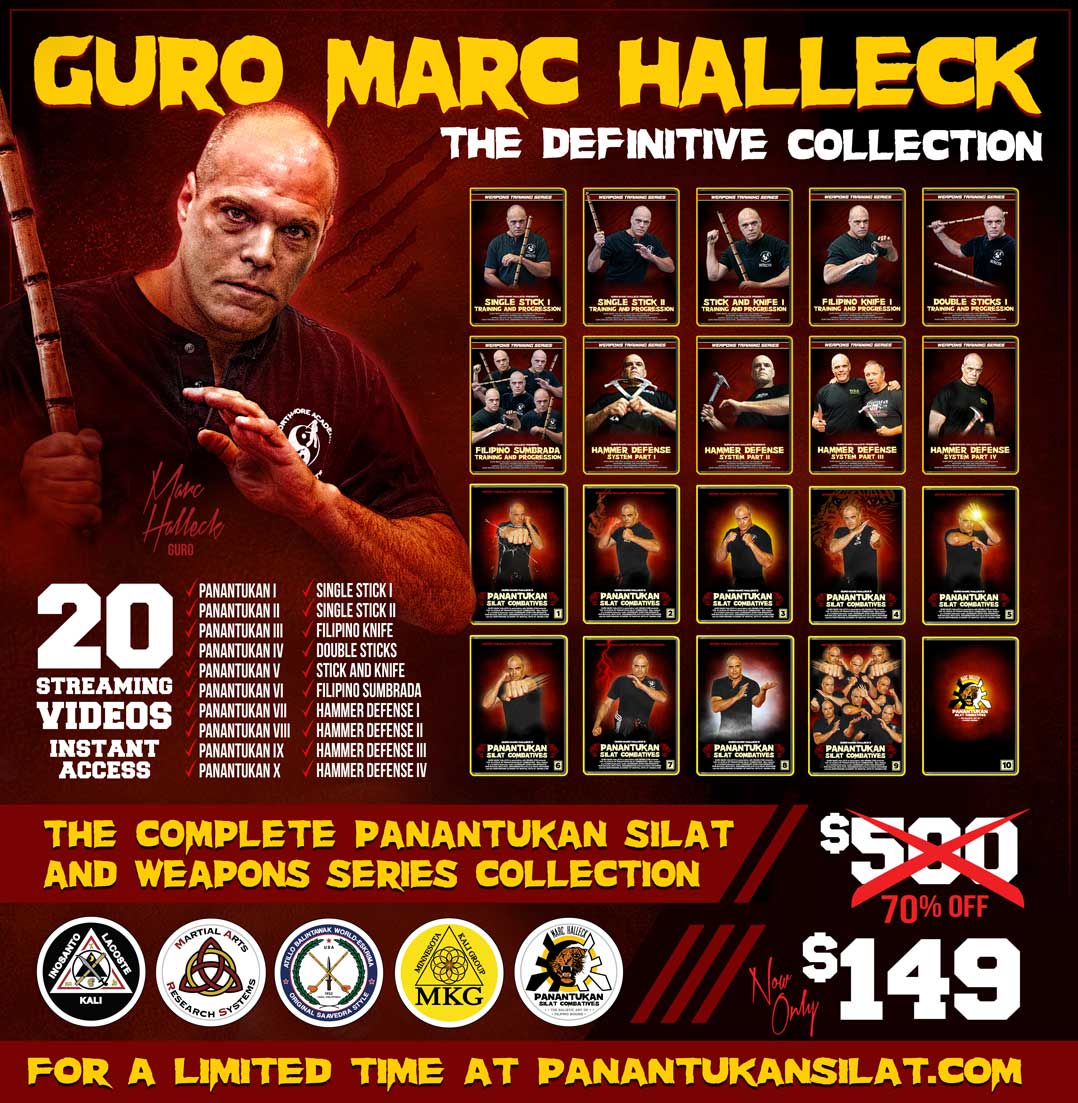 Guro Marc Halleck – The Definitive Collection – 20 Streaming Videos
For the First Time Ever!  The Entire Guro Marc Halleck Collection!  20 Videos Instantly Streamed including: Panantukan I, Panantukan II, Panantukan III, Panantukan IV, Panantukan V, Panantukan VI, Panantukan VII, Panantukan VIII, Panantukan IX, Panantukan X, Single Stick I, Single Stick II, Filipino Knife,  Double Sticks, Stick and Knife, Filipino Sumbrada, Hammer Defense I, Hammer Defense II, Hammer Defense III, Hammer Defense IV
 Price $149.00 – The Entire Collection – Instant Streaming
Official Panantukan Silat Combatives T-Shirt
Show your Panantukan Silat Combatives skills with the New Panantukan Silat-Combatives short sleeve tee! Panantukan T-shirts are available in all sizes. Please Specify your size at the end of the Checkout process in the comment section (Small, Medium, Large, XL and XXL).
Price $24.95 + Shipping and Handling
Official Panantukan Silat Sarongs
Officially Licensed Panantukan Silat Sarongs from Sarong Authentic!  An essential Training Tool for the Panantkan Silat Combatives Series.  Weaved in loop / Assorted Colors and Patterns.  Please note that colors may vary and we will try to match any request for special colors. 
Price $24.00 + Shipping and Handling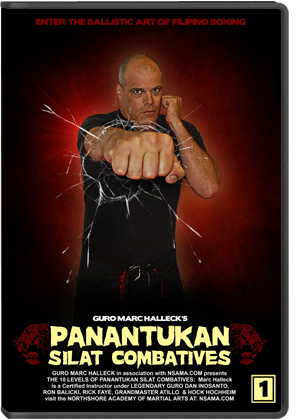 Panantukan Silat Combatives – Level 1 – DVD
This Collectors Edition video covers Level 1 requirements for the Panantukan 10-level Silat Combatives course. This PanantukanSilat.com exclusive includes: Full Hi-Resolution, Front and Back DVD Cover artwork and Disc
Price $29.95 + Shipping and Handling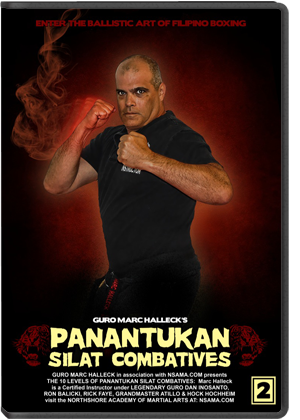 Panantukan Silat Combatives – Level 2 – DVD
This Collectors Edition video covers Level 2 requirements for the Panantukan 10-level Silat Combatives course. This PanantukanSilat.com exclusive includes: Full Hi-Resolution, Front and Back DVD Cover artwork and Disc
Price $29.95 + Shipping and Handling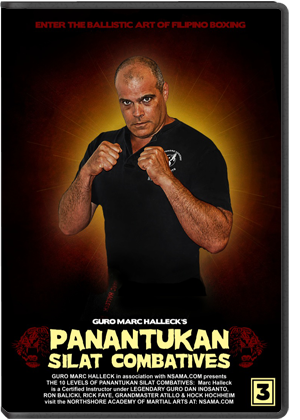 Panantukan Silat Combatives – Level 3 – DVD
This Collectors Edition video covers Level 3 requirements for the Panantukan 10-level Silat Combatives course. This PanantukanSilat.com exclusive includes: Full Hi-Resolution, Front and Back DVD Cover artwork and Disc
Price $29.95 + Shipping and Handling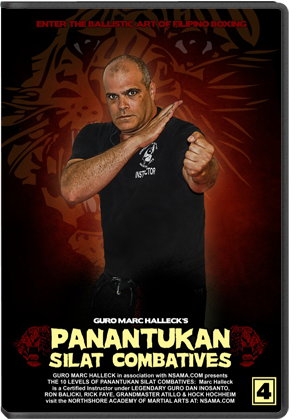 Panantukan Silat Combatives – Level 4 – DVD
This Collectors Edition video covers Level 4 requirements for the Panantukan 10-level Silat Combatives course. This PanantukanSilat.com exclusive includes: Full Hi-Resolution, Front and Back DVD Cover artwork and Disc
Price $29.95 + Shipping and Handling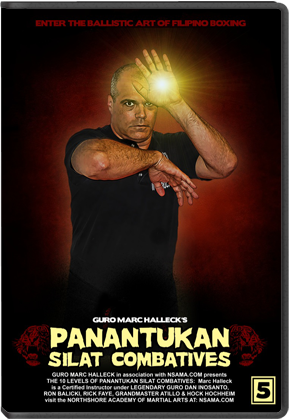 Panantukan Silat Combatives – Level 5 – DVD
This Collectors Edition video covers Level 5 requirements for the Panantukan 10-level Silat Combatives course. This PanantukanSilat.com exclusive includes: Full Hi-Resolution, Front and Back DVD Cover artwork and Disc
Price $29.95 + Shipping and Handling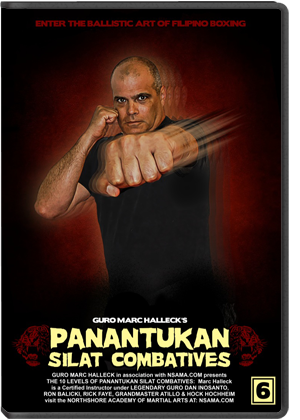 Panantukan Silat Combatives – Level 6 – DVD
This Collectors Edition video covers Level 6 requirements for the Panantukan 10-level Silat Combatives course. This PanantukanSilat.com exclusive includes: Full Hi-Resolution, Front and Back DVD Cover artwork and Disc
Price $29.95 + Shipping and Handling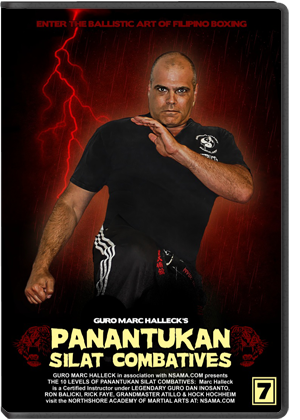 Panantukan Silat Combatives – Level 7 – DVD
This Collectors Edition video covers Level 7 requirements for the Panantukan 10-level Silat Combatives course. This PanantukanSilat.com exclusive includes: Full Hi-Resolution, Front and Back DVD Cover artwork and Disc
Price $29.95 + Shipping and Handling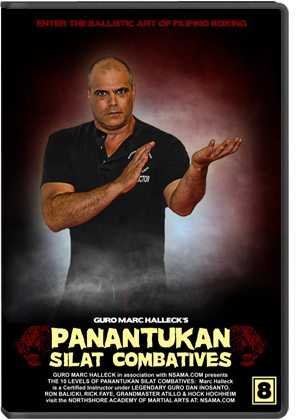 Panantukan Silat Combatives – Level 8 – DVD
This Collectors Edition video covers Level 8 requirements for the Panantukan 10-level Silat Combatives course. This PanantukanSilat.com exclusive includes: Full Hi-Resolution, Front and Back DVD Cover artwork and Disc
Price $29.95 + Shipping and Handling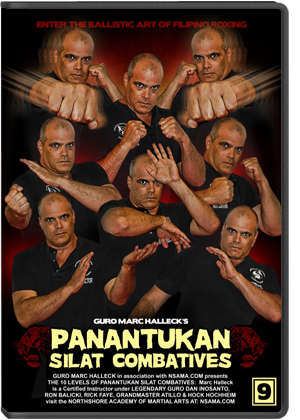 Panantukan Silat Combatives – Level 9 – DVD
This Collectors Edition video covers Level 8 requirements for the Panantukan 10-level Silat Combatives course. This PanantukanSilat.com exclusive includes: Full Hi-Resolution, Front and Back DVD Cover artwork and Disc
Price $29.95 + Shipping and Handling
Panantukan Silat Combatives – Level 10 – DVD
This Collectors Edition video covers Level 10 requirements for the Panantukan 10-level Silat Combatives course. This PanantukanSilat.com exclusive includes: Full Hi-Resolution, Front and Back DVD Cover artwork and Disc
Price $29.95 + Shipping and Handling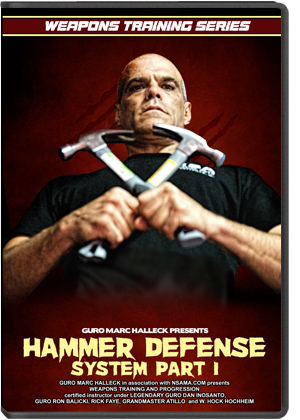 Hammer Defense System – Level 1 – DVD
Your Hammer Defense System Journey begins her with the Guro Marc Halleck's Hammer Defense System Level 1 – Special Guest Appearance by Guro Ron Balicki.  This Collectors Edition video covers Level 1 requirements for the 4-level Hammer Defense System course. This exclusive includes: Full Hi-Resolution, Front and Back DVD Cover artwork and Disc
Price $29.95 + Shipping and Handling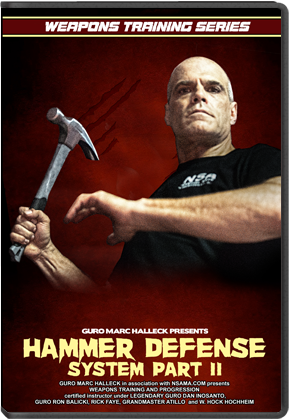 Hammer Defense System – Level 2 – DVD
Kick it up a notch with the Guro Marc Halleck's Hammer Defense System Level 2 – Special Guest Appearance by Guro Ron Balicki.  This Collectors Edition video covers Level 2 requirements for the 4-level Hammer Defense System course. This exclusive includes:  Full Hi-Resolution, Front and Back DVD Cover artwork and Disc
Price $29.95 + Shipping and Handling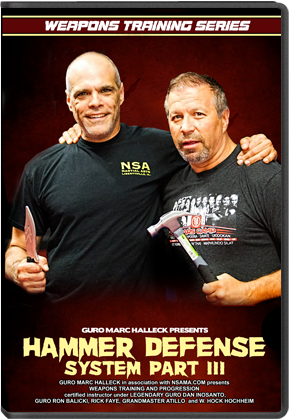 Hammer Defense System – Level 3 – DVD
Bring your opponent to their knees with Guro Marc Halleck's Hammer Defense System Level 3 – Special Guest Appearance by Guro Ron Balicki.  This Collectors Edition video covers Level 3 requirements for the 4-level Hammer Defense System course. This exclusive includes: Full Hi-Resolution, Front and Back DVD Cover artwork and Disc
Price $29.95 + Shipping and Handling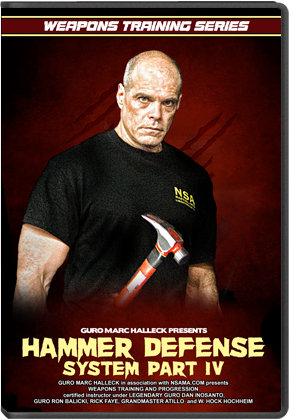 Hammer Defense System – Level 4 – DVD
Guro Marc Halleck's Hammer Defense System Level 4: The Final Chapter with Bonus Features that include: Blooper Reels and The Hammer Defense System: a short film.   This Collectors Edition video covers Level 4 requirements for the 4-level Hammer Defense System course. This exclusive includes: Full Hi-Resolution, Front and Back DVD Cover artwork and Disc
Price $29.95 + Shipping and Handling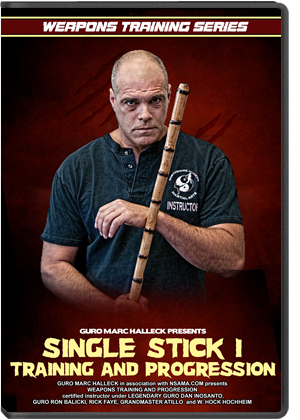 Single Stick – Level 1 – DVD
This Collectors Edition video covers Level 1 requirements for the Single Stick / Kali course. This exclusive includes: Full Hi-Resolution, Front and Back DVD Cover artwork and Disc Full Hi-Resolution, Front and Back DVD Cover artwork and Disc
Price $29.95 + Shipping and Handling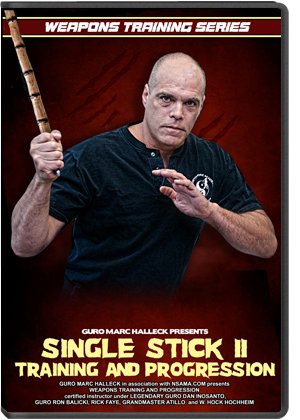 Single Stick – Level 2 – DVD
This Collectors Edition video covers Level 2 requirements for the Single Stick / Kali course. This exclusive includes: Full Hi-Resolution, Front and Back DVD Cover artwork and Disc Full Hi-Resolution, Front and Back DVD Cover artwork and Disc
Price $29.95 + Shipping and Handling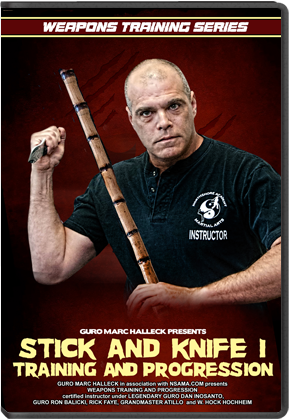 Stick and Knife – Level 1 – DVD
This Collectors Edition video covers Level 1 requirements for the Stick and Knife course. This exclusive includes: Full Hi-Resolution, Front and Back DVD Cover artwork and Disc Full Hi-Resolution, Front and Back DVD Cover artwork and Disc
Price $29.95 + Shipping and Handling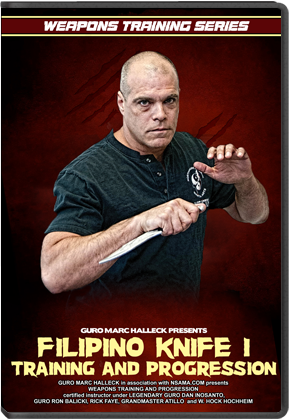 Filipino Knife – Level 1 – DVD
This Collectors Edition video covers Level 1 requirements for the Filipino Knife course. This exclusive includes: Full Hi-Resolution, Front and Back DVD Cover artwork and Disc Full Hi-Resolution, Front and Back DVD Cover artwork and Disc
Price $29.95 + Shipping and Handling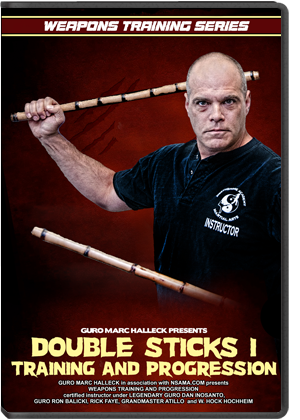 Double Sticks – Level 1 – DVD
This Collectors Edition video covers Level 1 requirements for the Double Sticks course. This exclusive includes: Full Hi-Resolution, Front and Back DVD Cover artwork and Disc Full Hi-Resolution, Front and Back DVD Cover artwork and Disc
Price $29.95 + Shipping and Handling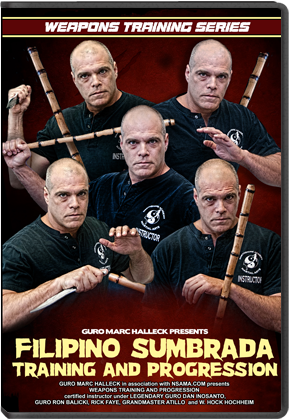 Sumbrada – Level 1 – DVD
This Collectors Edition video covers Level 1 requirements for the Sumbrada course. This exclusive includes: Full Hi-Resolution, Front and Back DVD Cover artwork and Disc Full Hi-Resolution, Front and Back DVD Cover artwork and Disc
Price $29.95 + Shipping and Handling